By Mike Maddaloni on Saturday, February 16, 2013 at 10:18 AM with
0 comments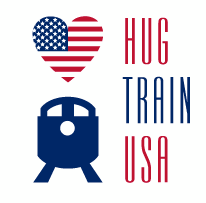 Back in late December, 2012 and early January, 2013, a small but might event occurred across the US – Hug Train USA. As the name implies, there was a journey across the country by train, stopping in major cities and offering hugs and raising money, all in the name of mental health.
Rather then telling the story myself, I asked Arié Moyal to tell it himself. The format is in the order of the 6 Questions I have asked in the past, but as a video. It was recorded on January 3, 2013 on his second stop in Chicago. If you can't see the video below you can view it on YouTube.
If you would like to get involved with Hug Train USA you can learn more at their Web site or you can follow them on Twitter or Facebook.
---
This is from The Hot Iron, a journal on business and technology by Mike Maddaloni.
---
Did you enjoy this? Subscribe to The Hot Iron by RSS/XML feed or Read by Email.
---
6 Questions
•
Announcements
•
Social Media
•
Thrive
• (0)
Comments
•
Permalink

Page 1 of 1 pages