By Mike Maddaloni on Thursday, February 06, 2014 at 11:24 PM with
0 comments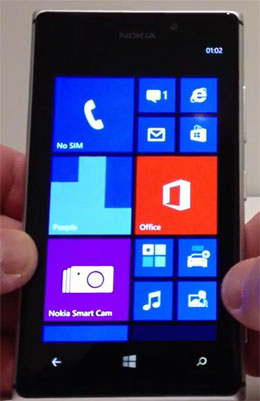 Earlier this week global software giant Microsoft named Satya Nadella as it's 3rd-ever CEO, succeeding Steve Ballmer, who succeeded Bill Gates. Where the position is highly regarded, and the opportunity is immense, Nadella will have the challenge of defining what Microsoft will be going forward and especially what they won't be. Some say the company is too big, rooted in its traditional PC and server operating system and software business while trying to be a consumer business with video game consoles and mobile devices.
Where there are many opinions on where the company should be overall, one area I will be watching closely is how it moves forward with mobile technology. Its Windows Phone platform is a distant third after industry leading iOS from Apple and Android from Google. Even a close tie with former mobile industry leader Nokia didn't prove to be a winning combination, which will be taken to the next level with Microsoft buying Nokia's mobile division outright.
Can Microsoft be successful at mobile? I believe it can, and if it were up to me, I would follow these 3 major activities to not only succeed at mobile but to thrive and be a contender for the industry lead. Seriously! But as I am not in that role, I will share my ideas here, and Mr. Nadella is free to take them if he chooses. If you're familiar with the novel A Christmas Carol by Charles Dickens, these 3 journeys are similar to those of Scrooge, dealing with the past, present and future.
First Reconnect With Your Corporate Roots
Where many know Microsoft as the people who built DOS and Windows for their PCs, the majority of their business is in running corporate computers and servers, and the additional software and consulting services that go with them. Where in 2014 many companies run Linux servers, for many years CIOs shied away from the open-source platform, relying on the operating systems from Microsoft, warts and all.
As Nadella previously led the cloud computing business at Microsoft, he knows how many corporate clients are moving much of their infrastructure to the cloud. He must also know that for as much as companies are looking to save shedding physical servers, they are now spending some of that on mobile devices, providing smart phones to their staff to keep them in contact and productive wherever they may be.
But have these mobile devices been Windows Phone devices? Some may have been, but there are probably still more BlackBerry devices in the hands of corporate users. And that number is probably dwindling, swinging towards iPhones and Android devices, which can integrate well with corporate email and are also popular platforms for the development of corporate apps, not to mention personal apps and Angry Birds.
In reconnecting with the corporate customers, mobile must be leading the conversation. What exactly is said depends on the following 2 activities in my plan.
Next Throw Money At Mobile Today
Yes, I said throw. Microsoft is well-known for its cash reserves in the billions. Where some of it is held for fighting legal challenges, some has been used for acquisitions, including Nokia's mobile business. Where I don't know exactly how much they have as of writing this post, I have heard it is anywhere around $50 to $60 Billion dollars.
So when I say throw, Microsoft needs to use its reserves to spend and better position itself right now in the mobile world, and fast. Over the past few years I witnessed Google do this with Android, going from nowhere to it being the second-largest mobile platform. They spent money on advertising, promotion, and on developers to build apps for Android devices. All of this for what is technically an "open-source" platform as well!
Microsoft's Windows Phone operating system has a unique interface and personally I feel it is more robust than screens full of icons in iOS. Couple this with solid engineering and technology it acquired from Nokia, including it's high-quality Zeiss lenses for its cameras, and you have a solid device that can be used by anyone. But do they know about it?
For Windows Phone to be successful it needs both marketing and buzz. There are plenty of agencies out there would love the opportunity to really sell the "experience" of Windows Phone, just as or even better than Apple has with the iPhone. For buzz, people need to hear about the features from their friends and family, and here Microsoft can tap into the agency that did this well for Nokia for years, 1000heads, as they are the leaders of word-of-mouth marketing and would love to bring back the raving fans they cultivated for Nokia in the past for Microsoft.
At the end of the day, it is really about what you can do with the mobile device, and what most people use is apps. Here's an area where Windows Phone is way behind. Most app development is done either just for iOS or for Android, and in some cases is done just for iOS. Windows Phone is usually a distant third, if at all. This is an area where a large chunk of that Microsoft reserve money can come in handy. Both consumer and corporate apps are needed for the platform to thrive. Here is the tie in with the corporate relationships – give money, tools, support, consultants, devices… whatever is needed for corporate clients to build apps for the platform. Help them leverage technology like PhoneGap where they can build apps "once" and port them to each platform (I am streamlining a lot of technical detail, but that is the 50,000 foot view of it).With corporate apps, plus seamless integration with Microsoft Exchange mail servers, you have an employees empowered with a sleek device and all the tools they need to log their hours or whatever it is they need to do.
I did not gloss over consumer apps, as these are direly needed. When it was announced the social photo app Instagram was coming to Windows Phone, it was over a year and a half after it came out for Android. Looking at some of the top apps I use – Starbucks, Hailo taxi, the Weather Channel and MapMyRide for bike ride tracking, only the Weather Channel app is available for Windows Phone. The fact the Starbucks app is not on it is almost shocking, seeing the headquarters of Starbucks is only about 16 miles from the headquarters of Microsoft! And if the large corporate players are not building apps for Windows Phone, neither are the small start-ups. Here Microsoft needs to do what Google did before them and what I am suggesting they do for corporate clients – throw money at it, pay key app developers to port their apps to Windows Phone, hold developer conferences, buy developers free food and beer, give them free devices… all what they need to help bolster the Windows Phone Store so you won't have to think about what apps are available for the platform, at all and never again.
Define The Future Of Mobile
What will mobile devices look and feel like a few years from now? 5 years from now? 10 years from now? Whatever the answer to the question is, Microsoft should be looking to be the one to answer it, and set the bar high for the rest of the industry to follow.
Hopefully among all of the chaos with Nokia over the last few years they have some of the brilliant hardware and software designers joining them as part of the acquisition to help define this. Where everything Nokia did was not always a top-selling device, they did create some interesting form factors, from fly-out keyboards to round devices to the small thin candy bar device. Today, with the lead from Apple and the close following from everyone else, including Nokia, everything looks like a black slab, and I know personally myself – and many others in the industry – are tired of black slabs! This is an area where Microsoft is not completely known for – amazing user experiences – but they have a start with Windows Phone, have some advances in their gaming devices and – with the right innovative leaders – create what is next, while not forgetting where it came from, as Nadella said in his first remarks as CEO.
No Time Like The Present
Right now is a good time to make moves in the mobile area for Microsoft. Apple is still feeling the loss of Steve Jobs and trying to define its next versions of devices and operating systems, with the last round not receiving the glowing praise it usually does. Google just unloaded Motorola to Lenovo and may be taking a different direction with hardware. Samsung keeps making bigger and bigger and bigger black slabs. And don't forget BlackBerry, as they are still hanging on and trying to define what their future is while everyone else is digging their grave.
I wish Satya Nadella much luck and good fortune as he takes the helm at Microsoft. Having Bill Gates step down as Chairman and simply being an advisor was a great first move by Nadella. There is a lot to sort out and a lot to prioritize, but I personally see great opportunity with mobile, and Redmond taking the reins from Cupertino is not completely out of the question.
Go ahead – let me know what you think in the comments to this post.
---
This is from The Hot Iron, a journal on business and technology by Mike Maddaloni.
---
Did you enjoy this? Subscribe to The Hot Iron by RSS/XML feed or Read by Email.
---
Business
•
Technology
•
Mobile Technology
•
Thrive
• (0)
Comments
•
Permalink

Page 1 of 1 pages