By Mike Maddaloni on Sunday, March 13, 2016 at 03:52 PM with
1 comments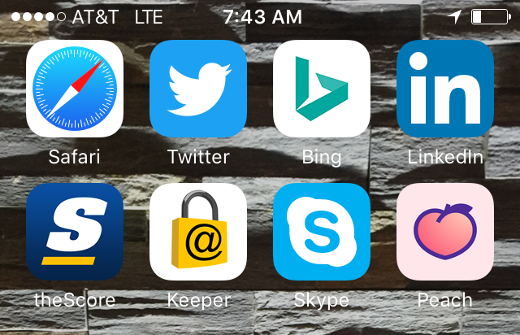 Quick – how many Web browsers are on your mobile phone?
Now I realize this question may confuse you, but please read on, as I may be talking about something completely new to you or something you know about but didn't realize its full impact and the challenges that come from it.
The Mobile Web Is Still a Thing
With the growth of mobile devices and apps, many predicted the Web would be less relevant. With advances in Web design, namely the concept of responsive Web design, where a Web site will adapt or :respond: to the size of the screen it is presented on, Web sites are still viewed on mobile devices, and this will certainly continue.
To view Web sites on a mobile device, like on a PC or Mac, you use a Web browser. This in itself is an app, and on the iPhone the "native" browser is Safari and on an Android phone, it's Google Chrome. As well, you can install other browsers like Opera or Firefox. Just as on the desktop or laptop computer, some people just use the native browser and others use another. Some use more than one, realizing one may present a Web page differently than another – that difference can be slight, or to the extreme the Web site functionality may not work at all. Unfortunately there is no strict standards that a Web browser must follow to display Web pages, thus the differences.
The More Not The Merrier
As you may guess, the more Web browsers there are, the greater the chance these differences – or errors – may occur. I personally have encountered this many times as a regular Web user, as well as someone who owns and builds Web sites.
To compound the number of apps out there that are Web browsers are apps that serve a unique purpose but also have a Web browser built into it.
Again, my apologies if I have confused you... Web browsers in apps? Which ones? And how many different ones? And why? Where I have some answers to these, I am not a mindreader, though as someone who has designed products as well as software, I will share with you my thoughts as to why, and their impact.
As for the which and how, the image at the top of this post shows 8 apps I currently have installed on my iPhone that have an in-app Web browser. Eight! One is Safari, the iPhone native Web browser, and the other 7 are inside apps. As for the why, this depends on the thought and design of the app owners and developers.
Here's one thought as to why: the chief reason is the user experience – click a Web link in an app and you stay within the app. Granted you can launch a separate Web browser on your mobile device, but the user is then leaving your app, where you want them to stay. Talking with some Web app owners off-the-record, they have also said this, as well as functionality of the app they would like to leverage in the Web browser. So as I said, they have their reasons.
Challenges All Around
After this setup, it may already be obvious as to what the challenges to in-app Web browsers are, and who they impact, including:
Challenges to App Users – Thats you and me folks, the end consumer of these apps and their browsers. There's a real-world example tha
t happened to me that first brought this to my attention.
I went to an eCommerce Web site to make a purchase, one I have been to man times on a mobile device as well as my Mac. However a popup window that normally comes up as the last step of the process to complete the order did not appear. I tried and tried a couple of times and it still did not complete the order. It wasn't until I realized I was in an in-app Web browser and not Safari, which I had used in the past. I then opened Safari on my iPhone, tried the order again and it worked just fine.
Even for someone like myself who considers himself a high-end user, I didn't think twice on what app I was really in, and once I did, it still didn't matter, as I wondered why the Web page didn't work?
Challenges to Web Site Owners and Developers – One of the greatest challenges to those who run and build Web technology is that their Web sites and Web applications work in browsers. This may be even more challenging than the site being of value and compelling to the end user.
Going back over 20 years there have been the need to test and verify Web sites on all PC and Mac Web browsers, as well as on other computer operating systems, which back then you could count on one hand. Add to it mobile devices, tablets, watches and multiple brands of browsers on each, not to mention different versions (not everyone is on the latest version!) it can be overwhelming.
Overwhelming, and expensive. The need for a quality assurance (QA) lab, equipment (basically at least one of each piece of hardware), staff, third-party consultants, services and software... you don't even need to be technical to realize the magnitude of it.
Challenges to App Owners and Developers – If you decide you need/want a Web browser in your app, you are basicaly doubling the functionality to build and support in your app. A Web browser is a beast all into itself – and now you have one. You need to test your browser with the latest Web technologies and standards, consistently. You also need to keep up with the competition – standalone Web browsers – as to their features and how they deliver Web pages. And where you have the staff to develop your app, you will need to expand it for the Web browser functionality as well.
This goes beyond the technology and into your product management and development. Where it may be ideal to have that tightly integrated browser, the overall question must be, at what cost?
Supporting not Scaring
As business needs and technology are always a moving target, it's good to have an idea of what may be in case you ever lose scope or focus on it. I hope after reading this I haven't scared you – saying you have almost a dozen of something when you had no idea can be a bit much.
I welcome your thoughts on multiple Web browsers in the comments of this post. I promise not to scare you anymore now... on this topic anyway!
---
This is from The Hot Iron, a journal on business and technology by Mike Maddaloni.
---
Did you enjoy this? Subscribe to The Hot Iron by RSS/XML feed or Read by Email.
---
Build
•
Technology
•
Mobile Technology
•
Web Design
•
Web Development
• (1)
Comments
•
Permalink

Page 1 of 1 pages