By Mike Maddaloni on Thursday, October 09, 2008 at 04:00 AM with
0 comments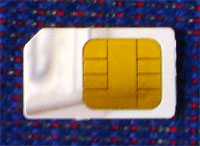 As a reader of The Hot Iron, you may have read a post or 2 about unlocked phones here. However, my opinion on unlocked phones predates this journal, and was first framed on my honeymoon of all places.
For the sake of a simple definition, an unlocked phone is one that will work on any mobile provider's network. This is facilitated by inserting a SIM card (see accompanying picture) for the provider into the phone. Where unlocked phones are prevalent in Asia Pacific and Europe, they are fewer and far between in the US. T-Mobile, my mobile provider for example, uses SIMs which can be used in unlocked phones. I own an unlocked Palm Treo 680 and my SIM works in it. When WOM World lent me a Nokia E71 for evaluation prior to Nokia OpenLab, I simply moved my SIM to it and I was on the network.
Back to the story. When my lovely new bride and I went to Australia on our honeymoon, we stayed with our friends AJ and FJ for a few days who were great guides to their homeland. When we got to their home, I took my Motorola StarTac phone (which I miss dearly, but I digress) and joked it would be a paperweight while I was there. AJ told me to get an Australian SIM and the StarTac would work. I explained to him it was a locked phone from Verizon Wireless and there was no SIM slot. He did not believe me and challenged me on it. I pressed my case, then, um, gently tossed my phone (as I recall it) to him and asked him to find it.
A couple of days later, AJ told me he was surprised there was no SIM. He showed me his Nokia phone, which at the time was not available in the US. It had a color display and a Web browser and over dim sum I was able to surf to GoPats.com. It would be 4 years later I would get smart and finally get my first unlocked phone. I have sworn going forward I will only purchase unlocked phones.

Did you enjoy reading this? You are welcome to subscribe to The Hot Iron by RSS feed or by email.
Technology
•
Mobile Technology
• (0)
Comments
•
Permalink
By Mike Maddaloni on Wednesday, October 01, 2008 at 09:15 AM with
15 comments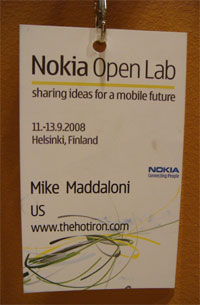 Though it was a few weeks ago I was in Helsinki, Finland for the Nokia OpenLab, it is still fresh in my mind. It was a social media event where about 35 people from all corners of the globe were flown into the Finnish capital, which just so happens to be the home of the mobile phone giant Nokia. I had mentioned previously how I heard about OpenLab and was invited and once I got through airport customs it all came together. It was a fast few days, action packed with a lot of unique experiences, all of which I will be chronicling below. Follow along and look at my photos here on my ovi channel.
OpenLab took place in the Rake-Sali ballroom of the Klaus K Hotel in downtown Helsinki, where the old style of the room was in the background to modern staging and lighting. The room was divided into 4 areas – a lounge with sofas, a bar with tall tables, a standard round table and a section with Fatboy beanbag chairs. People naturally gravitated to 1 of the 4 areas, and from there people counted off and redistributed for each workshop. In the center of the room was a raised platform, where speakers and facilitators stood, and hidden behind the bar area was a temporary video production studio, which I didn't realize until it was all over and saw the final video presented.
Over a day and a half, myself and the others participated in various workshop sessions and listened to a few speakers who were Nokia staff or consulted for them. The workshops were on the topic of social media, location-based services (or LBS, my new acronym for the event, thanks to Glenn Letham), media, work and the environment. The name OpenLab did not come to our attention until about a week before we arrived. The official Nokia Open Lab site has a lot of the logistics and links to the media captured during the event. There is also a link to the Second Life room, which will come as a thrill to my friend the virtual worlds guru.
The above lays out the tactical of the event, and now about the emotional. I have been fortunate in the past to have been part of amazing exchanges and dialogues with people from around the world, and this too counts as one of them. Where everybody was their own unique person, they were also extremely civil (to me at least!) and very engaging. As the workshop brainstorming sessions were pretty much self-policed by us participants (something to correct for future events), everyone was very accommodating and wanting to hear what each other said. Where I hope I added something to the mix, I feel like I took away quite a lot from it – even if it was something I already knew, hearing it from someone else with their own unique nuance was extremely worthwhile.
Why Me?
Nobody who attended OpenLab received a notice saying, "you were selected because of X" and where at first that was an issue with me but eventually it wasn't, as I was getting a free trip to Finland. However thinking about it more, it probably had to do with some of the writing I have done on The Hot Iron about mobile phones, namely how in the US we have inferior service and phones as compared to the rest of the world, locked vs. unlocked phones, and about my own Palm Treo 680. As I met other attendees, some had also asked themselves that question, but in the end everyone was passionate about mobile technology and social media at some level.
Meeting and Greeting and Partying
Upon arrival at the hotel from the airport there was the opportunity to meet people as they arrived, including the folks from 1000 Heads who run the WOM World blog. We had name tags, which helped me in remembering everyone's names. Upon checking in we received a box from Nokia, complete with a toothbrush, case, luggage strap, notebook and pen… needless to say, I was a little disappointed in the schwag.
That afternoon we had the opportunity to visit Nokia House, the corporate headquarters. It is a beautiful building of steel, glass and wood. We stayed mostly in the first floor common areas, and our main destination was the Nokia Lounge, which is a showcase for visitors and dignitaries. On display were everything from old phones to current models to concepts, such as a phone charger that doesn't drain power if left plugged in and phone parts made from corn.
The first night's party was at Blak. I only offer the URL link as it is a private club and there is nothing on the Web site. It is so private that there is not even a sign – only a guarded unmarked elevator that took you to the top floor club. We had the place to ourselves that evening, complete with very good food, an expatriate New Yorker comedian and live DJ. I found out about the rooftop deck the next day as I was dog-tired from the flight. I did visit the co-ed bathroom, complete with cheesy 80's soft core porn playing on the plasma screen.
The second night's party was in the club in the Klaus K – Ahjo. There was a lighter fare and drink coupons as compared to the previous night's soiree. These 2 events should have been swapped, as it would have been nicer to have been more awake at Blak. We got a sneak peak of the new Nokia viral marketing campaign, Legends Telegraph, and heard from Nokia's head of strategy, Heikki Norta. I had a chance to speak one-on-one with him afterwards as well. One thing he said was that Nokia today was already 5 years down the road. It will be interesting to see what else is coming out, which was planned for years back.
The Nokia E71 Phone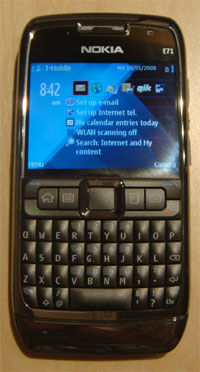 Prior to the trip, I received a Nokia E71 phone. As I was out of town when it arrived and only had a day to unpack and repack for Helsinki, I only had time to charge it before I left. As I knew I would not have time to put into it before I left, I went to the Nokia Store on Michigan Avenue in Chicago the week before. I told the staff person I was helping a friend evaluate the phone, as I didn't want to say anything about my trip as I didn't want to come off as someone bragging. The staff person was very helpful in pointing out many of the features of the Symbian operating system and how to navigate it. That was helpful for me when I finally got my hands on the phone, which happened on the flight over.
Thanks to my prep course at the Nokia Store, I was able to navigate the phone fairly easy. That being said, I did not even scratch the surface of all the phone could do. Once we arrived we got a Finnish SIM card so we could make calls and connect to the Internet. I entered a few numbers into the phone, configured my email accounts, and it was my primary device while I was there. I took several pictures with the phone and they came out ok – many people said the phone isn't its strongest attribute. But compared to my Treo, they were awesome (yea, the Treo's camera is poor).
Though the phone was sent ahead of time, it was not integral to OpenLab as I thought it may have been. Those who had other Nokia models of their own were using them for everything from live video streaming with Qik, Twitter, etc. As my archaic Vaio notebook could not pick up the WiFi signal in the ballroom, I use the phone for checking email and surfing the Web. I did not tweet while there, and in general did not even take a lot of notes – as everyone else was capturing photos and videos, I am going to go back over that content.
There is a lot to try on the phone, and I am now putting it through a thorough test. I will also scour forums like Howard Forums and All About Symbian as I am sure there are features or applications not in the documentation. And I will be taking up several offers from attendees if I have any questions. I will write up a full evaluation once I am done.
Prelude to a Trip
As I had mentioned earlier, the details were thin as to what the event was and who was going. I had asked the folks from WOM World if there were any restrictions on what I could say about this. There weren't, and they sent me links to 2 other blog posts on this.. This was a good thing, and of course I commented on each of their posts. Shortly afterwards one of those bloggers, Roland, created a wiki for the event. This was the first time I worked with a wiki other than Wikipedia, and I will talk about that some other time. Slowly people who were attending introduced themselves on the wiki, and the trip and the event started to make some more sense.
To HEL and Back
HEL is the international airport code for the Helsinki airport we flew in and out of. All in all the round trip was a great experience, namely as I was on a Finnair flight over the pond. My personal preference is to fly an international airline when flying internationally, as overall experience is much, much more positive. I would also prefer to fly an international airline within the US, but that usually doesn't work.
Just 2 small issues with the flights. On the way over, Sex and the City was one of the movies. As I drifted in and out of sleep, images from that film were projected on 5 screens of the MD-11's coach cabin, which sent shrills down my spine each time I awoke. On the flight back, I sat in the last row of the plane along with Micki which was not an issue in itself, but the lavatory directly behind us with the "odor issue" was. That, and people usually did not close the door all the way. To my new friends on Finnair… please fix it!
There was another Chicagoan heading to OpenLab as well, and Steve and I connected via the wiki, and chose our favorite sports teams' apparel to identify ourselves at O'Hare. We knew there were others on the Finnair flight but we didn't know who they were, but now worries as we all met once we arrived, and we stuck together buying our way thru Duty Free to the gate on our flight home.
The City of Helsinki
I'll be honest, Helsinki was not in my top 10 cities to visit. Even among the Scandinavian cities it was on the bottom of the list – I have been to Iceland and Denmark already, and as my wife is Norwegian and Swedish those countries take the top 2 spots. That being said, I was thrilled to have been there. It is a very clean and modern city, with a mix of older and new structures. Most of Helsinki was build within the last 100 years (according to Wikipedia) and has a lot of varying influences in the architecture. It was east to walk around, had a tram system and bike lanes off the sidewalks, which I was pleased to see.
An interesting note on the city and country – everyone speaks both Finnish and Swedish, and many signs – especially street signs – are in both. The Finnish language is not as much like the other Scandinavian languages as it is like Russian or other Baltic languages. Most Finns I met spoke at least 4 languages – Finnish, Swedish, English and some other language. And I am now struggling with the English words to describe how inferior I feel about that!
With a tight schedule and jet lag dogging me, I didn't see as much of the city as I would have wanted to. After arriving, a group of us including Steve, Roland, Brian, Zach, Rahul and myself went to the Kiasma Museum the modern art museum, and afterwards on the suggestion of a woman in the coat room went to the Seahorse restaurant for some very good authentic Finnish food. What is Finnish food? I had a salmon chowder and pike perch, and there were many other meat and fish dishes.
The first night of OpenLab had a group of us heading out into the city for some late night burgers, which interestingly had a cooked egg on them. After refueling we toured through the main square and towards the casino, which has a nice lobby… sorry I forgot my passport Steve. On the last day of the event, Steve and I headed out for some brick and mortar commerce, and ran into Jenifer, and we all went on a cool walking tour of the city, checking out the harbor area.
The Klaus K Hotel
The entire OpenLab was held at the Klaus K Hotel, which was a beautiful boutique hotel in a style similar to a W Hotel. The hotel had been around for years under the name Klaus Kurki and a friend used to stay there when she was working in Finland a few years ago. Looking at pictures of the hotel online before it was renovated a few years back is a true journey of night and day. We all stayed in the hotel as well. My room was small but stylish, but not really conducive to work – there was a "c" shaped table next to the bed, but no task chair. Not an issue, as I really didn't get much work done (shhhh, don't tell my clients!).
Right to Reflect More
I started writing this just after I arrived back in Chicago, and in my usual control-freak manner, I kept working on it thinking I was going to get it perfect. But it's not about the destination it's about the journey, and I will write more as I reflect more on the event. And I will definitely be writing more about the phone!

Did you enjoy reading this? You are welcome to subscribe to The Hot Iron by RSS feed or by email.
Business
•
Mobile Technology
• (15)
Comments
•
Permalink