By Mike Maddaloni on Saturday, January 23, 2010 at 03:59 AM with
0 comments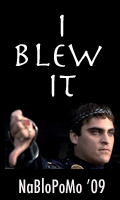 As last year I looked back on what I did not write for The Hot Iron the previous year, I am doing so again this year.
Where in 2008 I had more ideas than the time to write them, this past year my overall blogging count was down. I could overanalyze this, but I chalk it up to its lower priority in my overall schedule. That being said, I am proud of what I wrote, and received many good comments on those posts. I met my goal of reading 12 books in 2009, even with Atlas Shrugged taking most of a year to do so. Despite this, I only blogged on half the number of books. Be on the lookout for those book takeaways in the next few weeks as I start my first books of 2010.
Then there was NaBloPoMo. I probably never should have signed up for this for the pure reason I never remembered how to spell it! I signed up to writing a post a day for every day last November. Well, I said I would do it, but in reality I was not really committed to the program. So I wear the "I blew it" badge pictured above, and next time will only commit to doing something that both interests me and is in line with my goals.
Here's to a great year of blogging, and hearing from you in the comments.

Did you enjoy reading this? You are welcome to subscribe to The Hot Iron by RSS feed or by email.
Blogging
•
Book Take-Aways
•
Thrive
• (0)
Comments
•
Permalink
By Mike Maddaloni on Friday, January 22, 2010 at 04:00 AM with
0 comments

As businesses start-up today, they often think of a logo to aid in their branding. Most companies in 2010 are not publishing paper-based materials, thus they usually only think of their logo to be used on their Web site, or secondarily on a business card. And that's it. However, even though you may only initially intend on using it in certain ways, taking into consideration all possible uses for a logo up-front can save time and hassle in the future should other needs arise.
Here's a few logo uses you should consider.
Black and White - As most people don't choose a bland and white logo, it most likely be will be represented in some form in black and white. From photo copies to simply saving money on color ink to print in black and white, take into consideration shades of gray when your logo is designed.
Fax - When you fax a document, shades of gray disappear. Having your logo designed to look good on a faxed piece of paper. Test it if you're not completely certain.
Embroidered - When a logo is embroidered onto clothing or other fabric items, sometimes compromises must be made. The intricate details of some logos may not be able to be stitched in the same detail. Also, there may be additional charges for each color of thread that may make your golf shirt prices much higher than expected.
Full-Color Printing - In this world of digital everything, offset printing is still alive and well. Where printing in full-color should be easily be able to accurately represent your logo, it may cost you more for additional colors or colors which require special colors outside of the normal color palate.
Icon - If you want to use your logo as an icon, there are various formats to consider. The favicon which appears in a browser's address bar is only 16 by 16 pixels. The icon on a mobile device like the iPhone is larger, but still small in comparison to how large it may be on your Web site. As well for mobile apps, you want to ensure the icon itself is compelling so uses will identify with it and use it.
Where you may not be able to anticipate every use of your logo, by knowing ahead of time the most common ones, you should be in good shape to leverage it across all formats.

Did you enjoy reading this? You are welcome to subscribe to The Hot Iron by RSS feed or by email.
Business
•
Strategize
•
Thrive
• (0)
Comments
•
Permalink